How to reach Genoa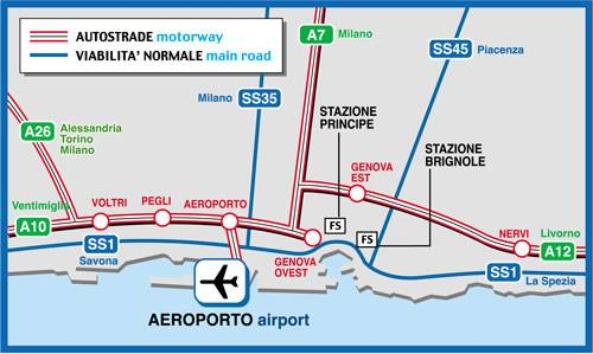 By air
The Cristoforo Colombo airport is located about 6 km from the city center. It is serviced by a number of airlines, with connections to many Italian cities and European capitals. The closest alternative airports are Milan (MXP) and Pisa (PSA).
The airport is connected to the city and train stations by the Volabus, with routes leaving every half-hour from piazza Verdi, in front of the Brignole station. Flight information: telephone: +39 010 6015410
By car
Genoa is reachable by highways from four different directions.
From Rome or Florence, take the highway (autostrada) A11 "Firenze-mare", then follow the A12 to Genova.
From Milan take the A7 Milano-Genova. Coming from France or Ventimiglia, take the A10 to Genova Ovest.
From Turin, take the A21 to Alessandria, then the A26 to Voltri, and finally get onto the A10 to Genova.
From Venice take the A4 to Brescia, then take the A21 to Tortona, and finally take the A7 until you reach Genova.
From Bologna take the A1 Bologna-Milano to Parma, then take the A15 toward La Spezia and continue on A12 toward Genova.
By train
Genova is an important railroad hub, with frequent connections for all the major Italian cities. You can find train schedules on Trenitalia website.
By sea
The ferryboat is another pleasant way to reach Genoa, and you can take your car along, too. From the Stazione Marittima, ferries run directly to and from Mediterranean ports.
Tirrenia (telephone: 147 899000 - 010 26981) - Connections with Sardinia
Moby Lines (telephone: 010 252755) - Lines for Corsica and Sardinia
Corsica Marittima ("CEMAR" telephone: 010 589595) Tunisi
Tris (telephone: 010 5762411) - Corsica and Sardinia
Grimaldi (telephone: 010 55091): Sicily, Sardinia and Spain
During the summer (with increased service in August), a tour boat service operates, connecting Genoa to the Golfo del Tigullio (Rapallo and Saint Margherita).